Habitational insurtech Honeycomb launches in Arizona ahead of further roll-out
Commercial property MGA Honeycomb has launched its tech-enabled multi-family habitational program in Arizona with plans to roll out the offering in New Jersey, Texas and Ohio by the end of the year, The Insurer can reveal.
The start-up is aiming to expand its footprint to most states by the end of next year as its 100 percent digital offering targets the $22bn US multi-family real estate insurance market, with a focus on small to medium condo or apartment buildings.
As previously reported, policies are being written by Randall & Quilter-owned Accredited Surety and Casualty Company, which is also participating on the risk along with Israel's largest insurer Phoenix, which has invested in the start-up.
It began underwriting in late June this year in Illinois on an admitted basis using Accredited paper supported by a panel of top-tier reinsurers put together by Acrisure Re.
In an interview with this publication, Honeycomb CEO Itai Ben-Zaken said the move to launch in Arizona as its second state made sense because the two territories share similar characteristics with strong demand for multi-family/habitational insurance as well as relatively low catastrophe risk.
The initial focus of the MGA's continued roll-out will be on an admitted basis. But Ben-Zaken said Honeycomb is looking at potentially creating an E&S program that would allow it to respond more rapidly to opportunities in higher-risk geographies.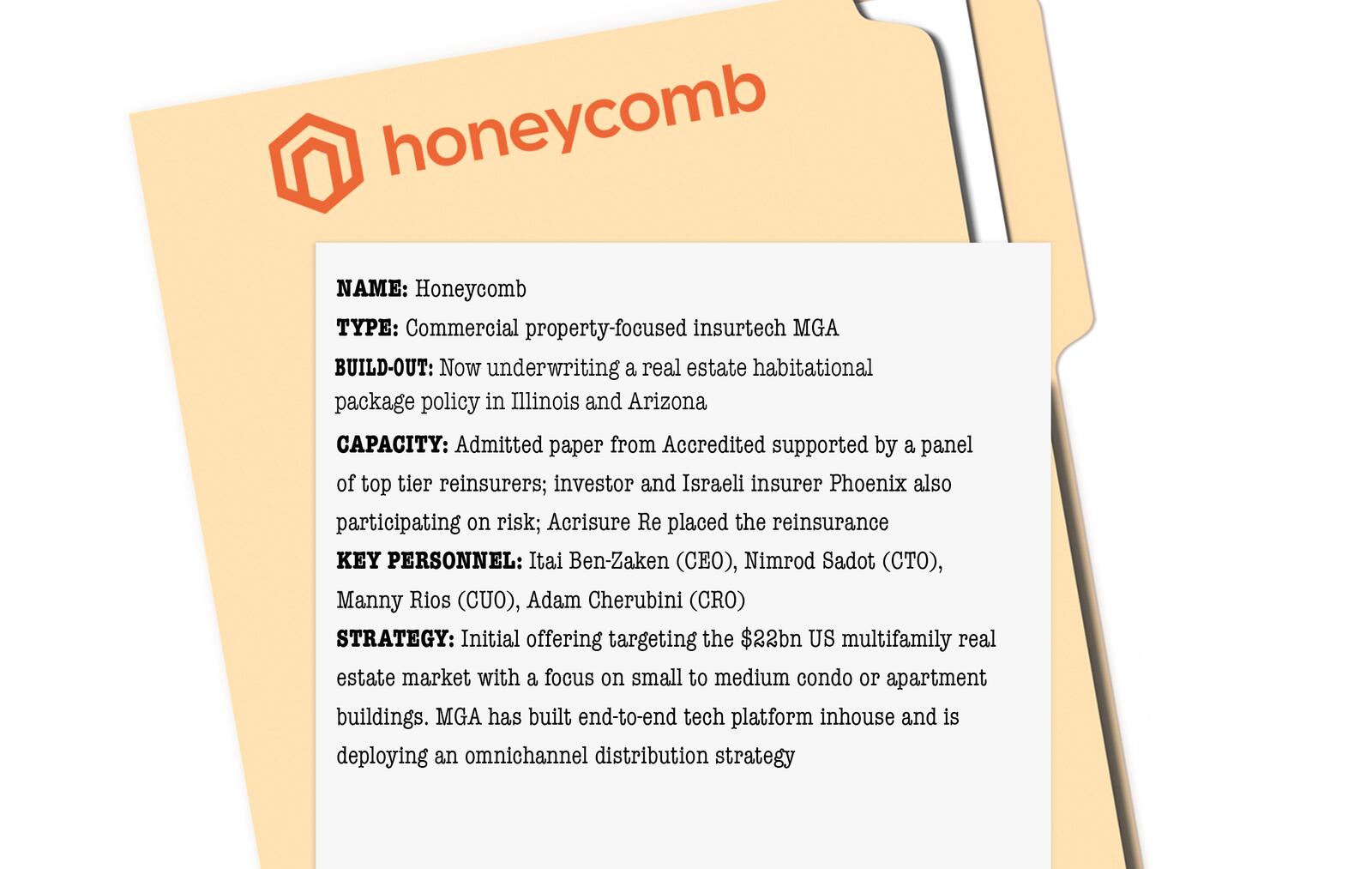 "Eventually we want to be serving everyone including insureds in higher-risk areas. By providing deeper segmentation of pricing and enabling customers to show us how they're maintaining the property we're insuring, we can make the product more accessible and provide discounts," he commented.
The start-up has built its own end-to-end technology and claims it is the only place insureds can buy a condo or apartment building master policy online in under five minutes.
The package product being offered includes property and general liability as part of the master policy, with other ancillary products such as D&O also available. The products are available to buyers in a modular format with different elements of coverage rated in real time.
Its distribution is primarily through retail brokers, although it does have select relationships with wholesalers – as well as offering insureds the ability to buy coverage direct for less complex smaller account risks.
For now Honeycomb is focused on what it sees as a significant opportunity to gain market share in the multi-family habitational market.
But it is considering other insurance products that would be in demand from the real estate owners and investors it currently works with, as well as ancillary non-insurance offerings that can help insureds mitigate risk.
Stick to MGA model
Despite the recent trend for insurtechs to look to transition from an MGA to a full-stack carrier, Ben-Zaken said that Honeycomb has no ambition to go down that path in the near term.
"We like the MGA model because it gives us a lot of flexibility. The benefit we get from working with a partner like Accredited far outweighs the cost at this point and probably for the foreseeable future. They bring more value to the table than just the paper," he said.
While he wouldn't rule out creating a balance sheet operation, he said that even if Honeycomb owns its own paper in three to five years' time it would still do a fair amount of business with another carrier because of the flexibility and ability to access licences for new products.
In the meantime the MGA will look to align interest in other ways, which could include a risk corridor on its programs and a structure that allows it to retain some level of risk.
"We believe in our ability to drive long-term profitability and putting our skin in the game enables us to increase our margins," he commented.