Ascot working with Evercore to assess strategic options for Ethos Specialty
Ascot and its owner CPP Investments are working with advisor Evercore to assess strategic options for MGU platform Ethos Specialty that could lead to a full sale, Program Manager can reveal.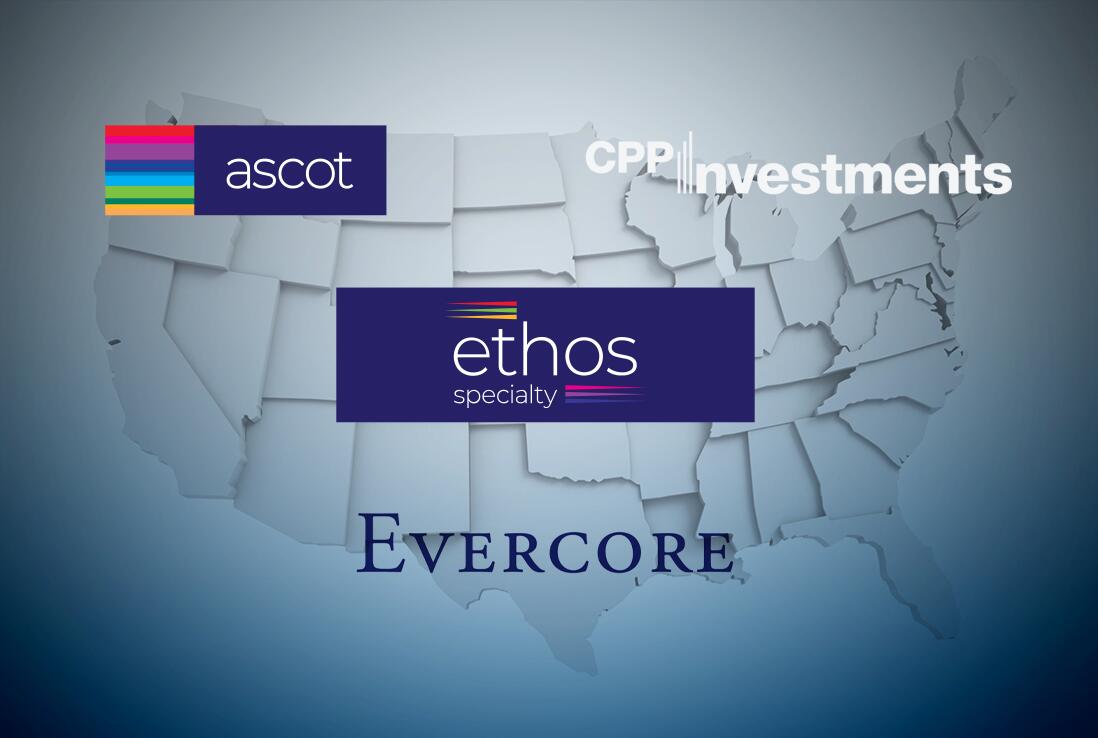 Sources said the process for the Nick Greggains-led platform is in the early stages, and comes after Ethos in a statement in August said it had passed $1bn in premium since its inception in 2017.
Details of its current financials have not been confirmed. But sources have suggested premium volume could be in the region of $300mn this year, including the impact of a drop-off from its well-regarded M&A insurance program in line with the cyclical downturn in deal activity in that segment.
At $300mn of premium, revenue is likely to be in the $30mn range, with Ebitda potentially in the $10mn-$12mn range depending on margin.
Sources had told this publication that Ethos Specialty was being viewed as a sellable asset by Ascot and CPP Investments earlier this year.
As previously reported, Ascot had been close to a potential sale to Blackstone and other investors, but the proposed transaction was called off in mid-November last year after a lengthy process, also run by Evercore.
Since then it is understood that there has been an openness to potential transactions involving Ascot assets.
It has also been suggested that with a potential IPO in the future for Ascot, a sale of the MGU business could be a natural step in cleaning up the company for that eventuality.
Earlier this year sources said that while at that stage there had not been any kind of official sale process for Ethos Specialty, there had been inbound approaches from a number of consolidators in the sector to gauge interest in buying all or part of the business, which is led by Greggains as CEO.
The platform has grown steadily since its 2017 launch – even allowing for the cyclical slowdown in its transactional liability business, which had been its largest program.
It now offers 12 distinct "industry-leading" programs, according to its website, which span the M&A and P&C sectors.
Next chapter of growth
The update in August stated: "The organization is committed to delivering a leading-edge platform informed by traditional underwriting excellence and innovating to drive positive outcomes in risk management.
"As the company continues to execute its strategic plan through program diversification and thoughtful expansion, Ethos Specialty is poised to fuel its next chapter of growth."
The MGU's underwriting leaders include Navine Aggarwal, executive vice president for transactional liability; Adam Schnell, executive vice president for specialty casualty; and Brendan Walsh, executive vice president for property.
Other members of the senior management team include Leah Ohodnicki, who was brought in from Argo as executive vice president of strategic partnerships in January this year.
Jewel in the crown
Sources said the transactional liability business is likely to be viewed as the "jewel in the crown" at Ethos Specialty, despite the cyclical downturn. Former Allied World and Ironshore underwriting executive Aggarwal had built it to a meaningful size before its top line was impacted by the pullback in M&A activity.
The firm claims the program is now the "go-to solution" for representations and warranties coverage in the healthcare industry and has seen significant investment including hiring healthcare experts to augment in-house expertise.
There is also thought to have been meaningful traction in Ethos Specialty's property and casualty programs.
Casualty programs in the Ethos Specialty stable include general liability (GL) real estate; clean tech-casualty; and a GL-only wrap program and NY contractor's program in casualty construction.
Property programs include coastal wind deductible buydown, commercial excess real estate, construction all other perils (AOP) and water damage deductible buydown, high hazard primary and excess, inland wind deductible buydown, and property AOP and water damage deductible buydown.
The three programs under the transactional liability banner include representations and warranties, tax insurance and contingent risk.
Specialized pools of risk
On its website, Ethos Specialty says it provides access to specialized pools of risk, with specific distribution strategies for each individual program that leverage relationships across the Ascot Group.
It also highlights specialized underwriting and risk management capabilities and a "Risk Match Model" that it says recognizes the dynamics of various sources of capital, and the firm's ability to manage that capital across cycles.
"A core strategic principle is to attract, manage, and gain the trust of third-party capital. We seek long-term capital partner relationships, driving for an alignment of philosophy, and confidence in performance which in turn releases us to focus on expanding opportunities for long-term success," says a statement on the Ethos Specialty website.
With potential access to Ascot capacity from different areas of the group – including its US insurance companies and Lloyd's – it also allows the company to "incubate" products and offerings in-house before seeking to build out third-party capacity.
Ethos Specialty has gone through a series of leadership changes since its launch, initially by former Ryan Specialty executive Michael Sillat and ex-Guy Carpenter executive Joe Calise, who now run Balance Partners.
As previously reported, CPP Investments was expected to retain a minority stake in Ascot if the sale at the group level had gone through.
After the sale broke down, sources said that the pension fund would remain supportive of Ascot and could see greater opportunities ahead for the carrier as it addresses the hardening reinsurance and specialty insurance markets.
Ascot declined to comment on this article.