Distinguished eyes further carrier-sponsored niche UW team lifts
Distinguished Programs is executing ambitious growth plans under its new management that include targeting opportunities to partner with carriers and take on underwriting teams from those companies while enabling them to retain risk premium on the business, Program Manager can reveal.
The New York-based program administrator was effectively rebooted early last year with backing from sector specialist investor Aquiline Capital Partners, which brought in an experienced leadership team that included Bill Malloy as CEO, Jason Rotman as president and Steve Sitterly as COO.
The firm will pursue more traditional growth strategies such as acquisitions and team lifts, as demonstrated by the November hiring of a fine art and collectible team from Axa XL led by Patrick Drummond.
But it is also pursuing what management have described as the "less trodden" strategy of team lifts in partnership with the carriers they are moving over from, which would then provide capacity on an ongoing basis.
Earlier this month, this publication revealed that Distinguished had added Doug Stepenosky and his 24-strong environmental team from SiriusPoint.
But rather than a straight team lift, the move was part of a newly formed partnership between the companies that will see the Bermudian carrier continue to provide capacity under a multi-year program agreement.
The innovative transaction will see Distinguished provide a platform for the environmental underwriting team to grow in an entrepreneurial MGA environment – potentially with added capacity from third parties.
And SiriusPoint will continue to support the book with its paper and benefit from its underwriting results.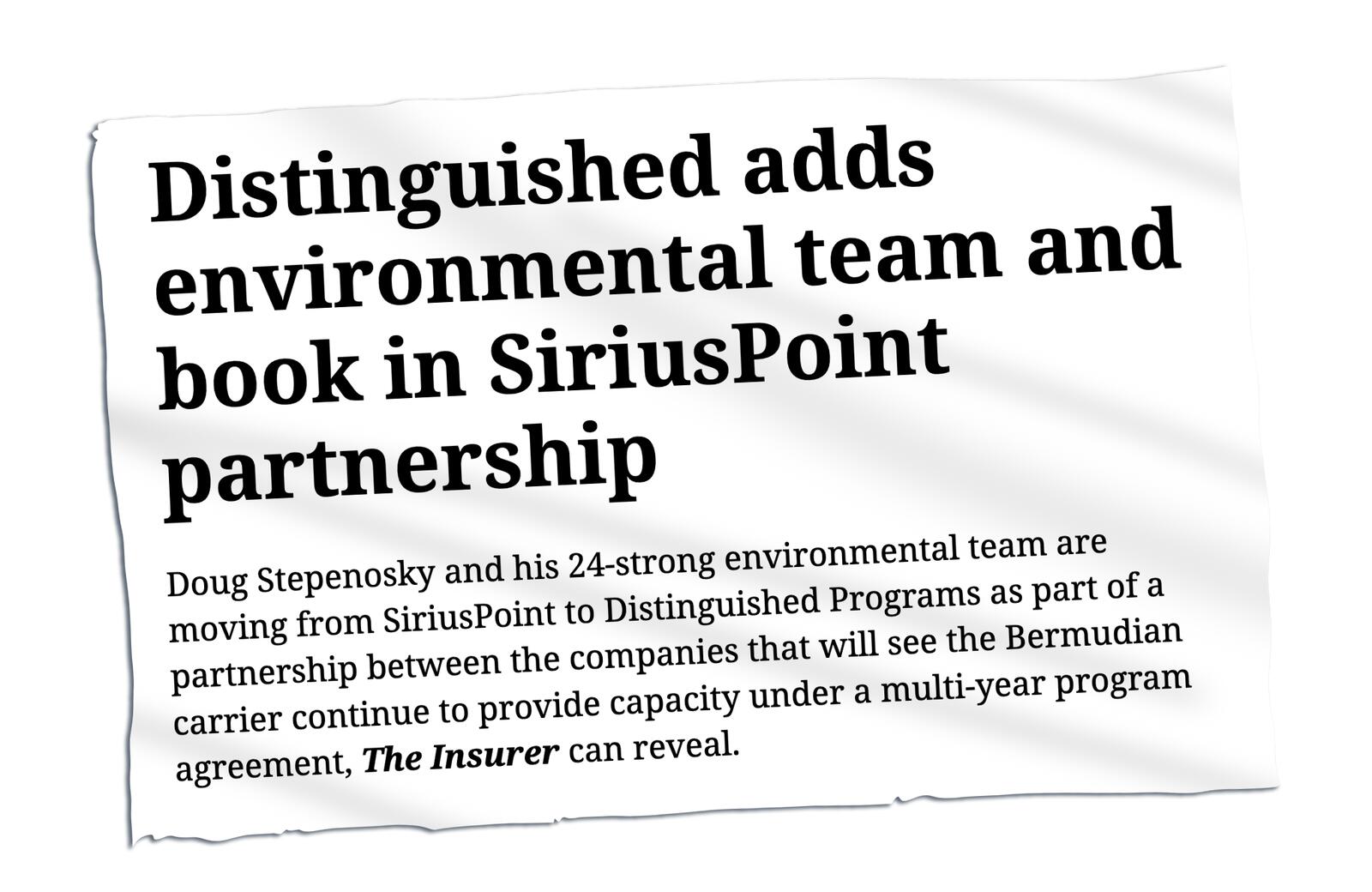 In a joint interview with this publication, Malloy and Rotman said the deal represents the first in what could be a series of similar transactions as Distinguished builds out its book of specialty niche programs.
There have been other examples of partnerships where MGAs have taken on underwriting teams from carriers at the same time as entering long-term capacity deals with those companies – such as the Paragon-Nationwide arrangement in E&S property – but they have been few and far between.
And Rotman suggested that for Distinguished to make these kinds of arrangements a core strategic aim is likely unique.
"This is an innovative and less trodden strategy as a capital management, operational management retention tool with carriers partnering beside us," the former Aquiline executive said.

Malloy added that in contrast to the problem some carriers are facing from MGAs that are looking to lure away underwriting talent, Distinguished is providing a potential solution.
"We're not challenging the carrier and would like to be looked at as more of a potential solution in situations where they might need to focus on other parts of their business that give them a better return," he explained.
As carriers look to position themselves in a transitioning commercial insurance market amid macro pressures such as inflation and high interest rates, there are a growing number of conversations taking place around portfolio optimisation and capital management.
Those conversations have if anything gained momentum post Ian, which acted as a catalyst for some of the pressures on carriers.
Historically, insurers have tended to address capital constraints by exiting non-core lines of business and putting them into run-off to focus their efforts on core areas of their book.
But a year after being brought in by Aquiline to run Distinguished, Malloy and Rotman said the program administrator platform is well positioned to be a partner to carriers looking to rehome underwriting teams without losing business altogether.
Win-win-win
"We really believe there's an opportunity here that no one else is addressing. Maybe you're a carrier and you have a book of business that's maybe too small, or maybe it's too big, and you want to be able to manage it down over time, or the IT is a challenge, or you know the team wants to do an MGA.
"This is a very interesting partnership where they can keep what they want and we manage and deal with the book of business going forward and take over what they don't want to take care of," said Rotman.
Malloy added that the approach could be particularly beneficial to an insurer looking to rehabilitate its business.
"In some cases a carrier may want to spend less management time on certain things and have more opportunity to take advantage of other things," he commented.
In that scenario and where a line of business fits Distinguished's appetite for niche specialty product and has the right level of underwriting talent, there could be an opportunity for the program administrator to take on an underwriting team.

It could also apply to a situation where a carrier is capital constrained in a certain line that has attractive growth opportunities. By transferring to an MGU and continuing to provide capacity, the carrier would allow the underwriting team to access other capacity sources operating from a third-party platform.
The executives said that the sweet spot for new programs and underwriting teams sourced in this way would be starting annual premium volumes in the $50mn and above range.
The bias would be towards underwriters with "real ability" to find and flourish in niche specialty areas where they can maintain competitive advantages and outperformance on the underwriting side.
Those underwriters may then be drawn to a more entrepreneurial environment with the earnings potential that MGA platforms typically provide.
They also highlighted the inherent arbitrage between an MGA and balance sheet business based on valuation mismatch.
"If you can put more of the earnings through an entity that gets the multiple of an MGA platform as opposed to a multiple consistent with a balance sheet business – let alone a balance sheet trading below book – that allows us to share that with the underwriting team, carrier partner and ourselves," said Rotman.
"Everyone can win. If we can find specialty niches big or small that have good loss ratios then we have a real opportunity to financially engineer, but more importantly operationally engineer," he continued.
The executives said they came into a Distinguished platform that already had MGA infrastructure that could do everything required from underwriting to data to billing which was "outsized" for the business at that time.
In an environment without factors such as legacy and reserving that can weigh on carrier businesses, the firm is able to help underwriting teams create technology that better interfaces with their broker clients to aid distribution and generate operational efficiencies.
"There's no doubt in my mind that the simplified model of MGAs gives them the ability to get more efficient technology to be better at the front end and the back end. That allows us to operationalise more easily," Rotman commented.
Program Manager Comment
Earlier this month Fidelis closed its groundbreaking transaction to separate into a new MGU business housing underwriting talent and a risk-bearing balance sheet carrier vehicle.
The move, first announced last year, has caused plenty of discussions in the industry about the future of the carrier and MGA models.
It is also an extreme example of a trend that could become more prevalent, but on a smaller scale.
Capital deployment, operational efficiencies and the valuation mismatch between carriers and MGAs have been consistent themes.
The approach of Distinguished looks to be aimed at providing a solution to carriers that may want to reposition and refocus opportunities on growth segments without losing the economics of a non-core underwriting division altogether.
The potential benefits of a Fidelis-like move may resonate with some carriers that don't have the appetite or ability to execute such a drastic manoeuvre. A more surgical approach in partnership with an MGA such as Distinguished could provide a realistic route for those insurers to pursue.